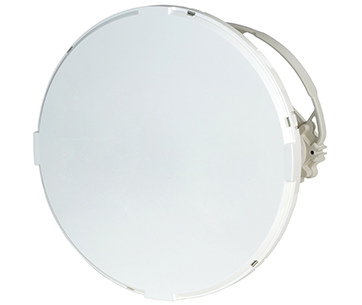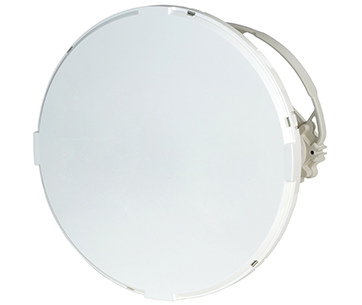 Future-proof Gigabit throughput, ready for LTE, LTE-A and small cell rollouts.
Always find spectrum in the 71-76/81-86 GHz E-band. Thanks to a narrow beam width, there is zero interference. It's also lightly licensed in most of the world, with lower costs and an extra quick licensing process.
Advanced all silicon integration increases reliability and reduces prices, so you get a lower TCO.
How reliable? 90-yr MTBF.
Carrier Ethernet inside – streamline operations with bandwidth-aware QoS, service management, and OAM.
Integrated timing over packet SyncE, 1588 schemes for your packet backhaul networks.
Deploy in cascade, G.8032 ring or any high resilience topology with a built-in Gigabit switch and extra ports, and standards- based networking.
Proven high availability in any weather condition (including monsoons and hurricanes) so your users enjoy consistently high performance.
Think small – small power consumption (PoE), small size (31cm or 12" diameter), and very light weight.
Zero touch installation with activation from the NOC.
The EtherHaul-1200F radio delivers ultra-high capacity wireless point-to-point Ethernet connectivity that future-proofs your backhaul network. With a throughput of 1000 Mbps full duplex over the uncongested 71-76/81-86 GHz spectrum using FDD, mobile operators can deploy affordable, high capacity wireless links that are easy to install and maintain.
The EH-1200F radio is based on Siklu's advanced integrated-silicon technology, which increases reliability and reduces size and cost. The result is a very small, very light radio with a 90-year MTBF and an unbeatable price/throughput.